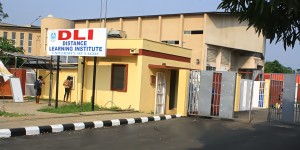 INTRODUCTION
The Nigerian national policy on education recognizes the place of open and distance learning that affirms life long education as the basis of the nation's education. The policy stipulates that Open and Distance Learning (ODL) provides options to persons who – after completing junior and secondary education- can continue their education at tertiary level; combine work and schooling at the same time; or seek gainful employment and then continue their education at a later period of their choice.
GOALS OF OPEN AND DISTANCE LEARNING
To provide access to quality education as well as equity in educational opportunities to those who otherwise would have been denied
To meet special needs of employers by mounting special certificate courses for their employees at their work place
To encourage internationalization especially of tertiary education curricula
To ameliorate the effect of internal and external brain drain in tertiary institutions by utilization experts as teachers regardless of their locations or places of work (N.P.E 2004)
SCOPE OF ODL ACTIVITIES
Cognizant of the need to contextualize the applicability of the various ODL delivery modalities, the ODL mode shall not be applicable to academic disciplines in a university that does not have capability for that discipline. In view of Nigeria's present technological and infrastructural challenges, the academic disciplines which may be offered by the ODL mode within the short to the medium term are courses in education, administration and management sciences, social sciences, humanities and arts, sciences and applied sciences.
ENTRY REQUIREMENTS FOR STUDENTS
All entrants into degree programmes offered by ODL must meet the minimum national requirements for admission into the university as stipulated by the Joint Admissions and Matriculation Board
NATURE OF ODL
For all academic programmes to be taught via ODL, interactive texts shall be at the heart of teaching and learning. These shall be supplemented with other resources such as CDROM, DVD or USB sticks to deliver e-books, simulations, assessment, etc.
ODL means that students should not be required to attend classes or have face-to-face contact; unless there are compelling reasons to justify it; such as examinations, periodic facilitations and practicum.